17 1/2 hours of full ATC coverage at Zurich Airport!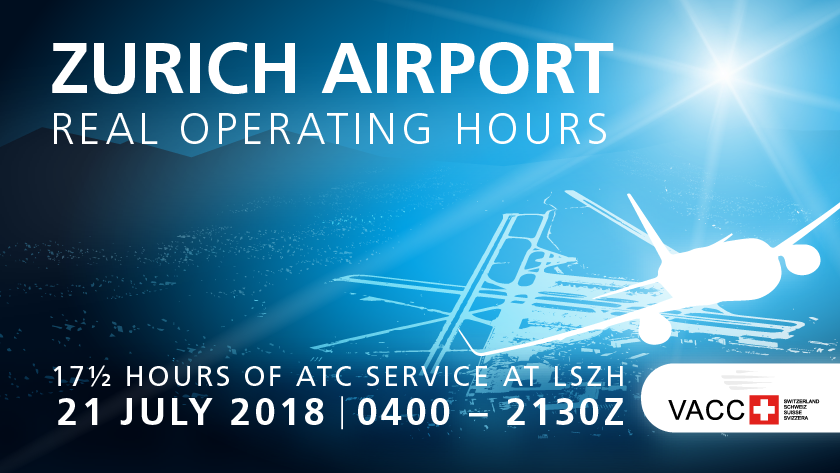 Starts: 2018-07-21 04:00:00 UTC; Ends: 2018-07-21 21:30:00 UTC;
Airports: LSZH
Organized by: vACC Switzerland
Description:
Have you ever…
… dreamed of ATC all day long?
… wished to have controllers guiding you on early morning approaches while the sun is rising?
… wanted to fly a four leg rotation with guaranteed service on your departure and arrival?
… hoped to get a whole day of ATC as real as it gets?
We make it happen! Zurich Airport will be open on May 13th during the real operating hours!

Be the first one to touch down as IFR-traffic on runway 34 at 0600 local time. If you are early, expect to join the holding with the other early morning inbounds until we are allowed to let you approach the airport. A picture seen at Zurich every morning …

As VFR traffic, explore the beautiful mountaineous Swiss landscape just minutes south of Zurich. Fly to Samedan for a delicious nut cake at the highest airliner airport in Europe and enjoy the breathtaking view of the alps. When returning, be prepared to get close to the big birds! Zurich still handles both, VFR and IFR traffic, unlike other European majors.

Zurich is a unique airport with a lot of operational restrictions due to noise abatement and its challenging layout. We know it by heart and love this airport with all its rough edges.

Be part of the experience and let Zurich come to life for a whole day on July 21st from 0400 to 2130z!
Scenery & Charts
LSZH - Zurich